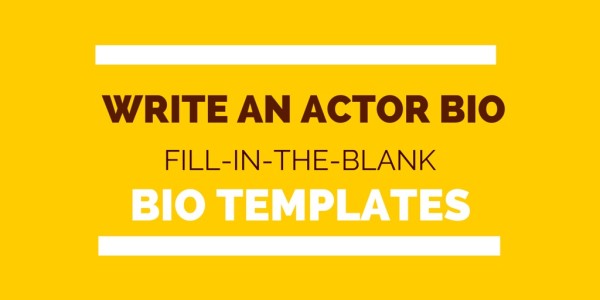 An actor bio is a brief summary of your education, work history and experience that is relevant to the acting profession (the focus is on brief and relevant). The theatre or agency requesting your actor bio may specify a format and length. If they don't, follow these actor bio guidelines:
Keep your actor biography brief—about 100 – 250 words. Biographies that are too long simply don't get read.
Write in the third person ("John Smith acted in", not "I acted in").
Include your acting credits and your training. If you have a long list of credits, just mention a few credits (the most impressive ones) in the narrative part of your bio and then add a point-form list of all credits at the end.
It's optional to include biographical information such as marital status, number of children, and place of birth. If you don't have many acting credits yet, this personal information can help flesh out your bio.
List your contact details at the end. Since a bio doesn't have room to reflect all your achievements, you can also include a website link to your portfolio and contact email address.
Accentuate the positive
You might have a lot of experience but no formal training. Or you might have attended a prestigious acting school but you don't have much experience yet. Don't worry about it. You can choose what gets highlighted in your actor bio. Just write about what you have and don't even address what you don't have. In the end, the ability you show at the audition will count most of all. There are plenty of people performing on Broadway who did not attend the "name-brand" schools.
You have a brand
Like a fashion designer, you have a brand to sell. You've got skills, you've trained and studied your craft, you've acted, and you do good work. Project this in your theatre bio by describing yourself with confidence and verve.
Write more than one bio
You need more than one theatre or actor bio, depending on its intended purpose. Here are the most typical bios you might need.
a short bio or "blurb" that you would use in a theatre program. A short bio is normally no more than two or three sentences.
a longer bio would be needed for an audition. This would be 100 – 250 words long.
a full biography might be required for your website or a press release. A full length biography could up to a page in length (250 – 500 words).
Get started writing your actor's bio
To start writing, use a point form method or use an actor bio template. A bio template is just an outline for you to fill in the blanks. You can list out the following points:
1) Training
2) Experience
3) Awards or achievements
4) Contact details
5) Acting credits
To summarize, an actor bio is:
used as introductory or promotional material
an overview of the person written in narrative form
written in the third person
brief and relevant to the acting job
a summary of education, experience and achievements
A template makes writing an actor bio quick and easy!
Does writing an actor or theatre bio seem like just one more task on your long to-do list? If so, get a fill-in-the-blanks bio template written specifically for theatre and acting professionals. You'll have it all done and complete within the next 20 minutes.