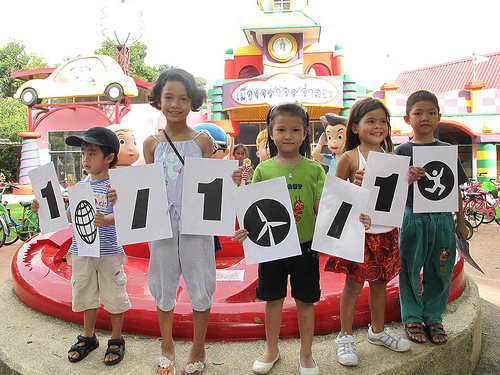 Julienne Dimon is a program director for Action Care, and also works as a trainer, cultural proofreader and program coordinator for other training programs. She asked me to take a look at her professional bio and give her suggestions for improvement. Here's Julienne's bio:
Julienne Dimon has been active in the field of training and education development for thirty years, focusing on teaching English as a second language, early childhood development, soft skills training and promoting volunteerism in Thailand, Malaysia, Jordan, the central Middle East, UAE and GCC region.

Julienne has conducted programs for institutions such as the ministries of Education in Thailand, Jordan and the UAE, as well as the UNRWA Education Department and select universities in each of these countries. In addition, she has three years of experience as an ESL (English as a Second Language) tutor for primary and secondary school students in Thailand and Jordan.

She currently serves as program director for Action Care, and is working as a trainer, cultural proofreader and coordinator for English Live and other training programs conducted throughout the UAE and GCC.
I have only a few suggestions for Julienne, since her bio is already clear, concise and well-written.
My main suggestion is to pare down the number of job titles (currently she specifies "program director and coordinator and trainer, cultural proofreader".) I realize that Julienne is making a distinction between her job for Action Care (program director) and her work with English Live and other training programs (trainer, cultural proofreader and coordinator).
However, it's more important in a professional bio to convey a clear "brand" than to give an exhaustive list of position titles. I recommend that Julienne summarize "trainer, cultural proofreader and coordinator" into one or at the most two job titles.
I'm not sure that most readers would know what a "cultural proofreader" is. I'm not familiar with the term, but perhaps Julienne's intended audience would understand it.
The acronyms UNRWA, UAE and GCC should be spelled out the first time they are used, like this "United Arab Emirates (UAE)".
Reading Julienne's bio, my thought was that she sounded like a really interesting person and I wanted to know more about her personally. I was particularly curious to know her nationality, in which country she lives (UAE or GCC?), and how she got into doing such interesting work. Julienne may want to consider adding a paragraph addressing these points.
A note on including personal information in a professional bio: it's entirely optional and certainly not a requirement. After all, a professional bio is just that – professional – and not intended to be a complete autobiography. But it does  provide context and helps the reader relate to you as a person. If that's your goal, then go for it!
photo credit: http://www.flickr.com/photos/350org