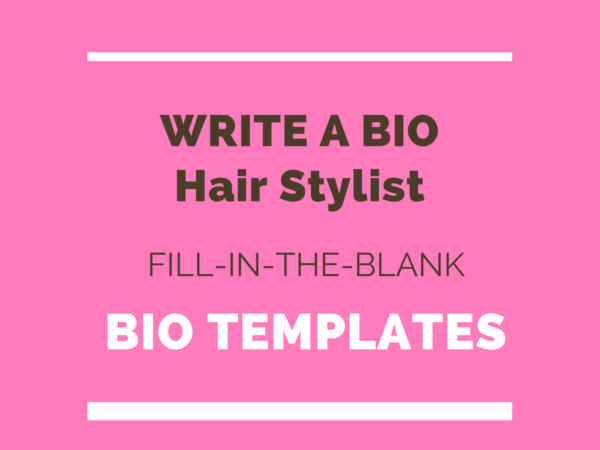 As a professional hair stylist, you know that a good bio helps you get more clients. Here are some tips for how to write a short hair stylist bio, including a useful fill-in-the-blank bio template with example wording.
1. Establish a warm and friendly tone
Half of the appeal of a good hairdresser is their personality and how well they relate to a client, make him or her relax, listen to their needs to ensure that the final result is what was desired. For that reason, it's perfectly fine to start a bio with "Hi. My name is ___________________ and I love to cut hair. I can give you a style that will make you look fabulous!"
2. Keep it short 
The truth is, people do not read bios… they skim them. So keep your bio short and to the point. That way, there's more of a chance that the reader will remember the most important points.
3. Highlight what makes you special
You have special talents and abilities, even if you've never considered yourself that way.  Even if you're just starting out, you can highlight your ability to listen to a client's needs or how up-to-date you are on new styles and techniques.  If you have certifications in hair color, facials, make-up, or any other beauty routine, be sure to list them. Where were you trained and when? What awards or professional recognition have you received? What are your specialties?
Do you have more knowledge and sensitivity than the average hair stylist to special needs clients, such as those with trichotillomania (hair pulling disorder)? Including a statement such as "I'm aware of and sensitive to the challenges of trichotillomania, and enjoy working with trich clients to make their time in the salon pleasant and relaxing."
4. See what's standard and then go beyond it
Check out the bios of a few other stylists, preferably those in your own area, maybe even those whose work or salon you know. What are they doing? When you read their bios, what grabs you and what leaves you cold? Although you don't want to copy other people's writing, you can get inspiration and then tailor it to your bio.
5. What products do you use?
In some salons, you may not have any control over that, but in many cases, stylists have favorite products that they use consistently. If you're one of those, be sure to say so. Customers are often loyal to particular brands, so if a Paul Mitchell fan reads your bio and sees that you only use his products, she's likely to pick up the phone and schedule an appointment.
6. Are you enthusiastic about special events ?
In other words, do you love to do weddings, proms, styles for graduation pictures, etc.? Do you really love to work with small children? Many people who normally get their hair cut at the $8.99 Walk-In Shop have no idea where to go when they want something better.  If you can offer that, they'll come to you. Once they experience what you can do, they may just become a regular client
7. Why do you love doing this?
A stylist's personality is nearly as important as technical skills. If you simply love making people look their best, then say so. Share why you chose this career instead of X-ray technician! Let potential clients know that when they're in your hands, they're in the hands of someone who genuinely cares about making the world more beautiful.
8. Be sure to include the basic info
People want to know where your shop is located, when your shop is open, and if they need an appointment. Some stylists will accept walk-ins for a shampoo or cut but need appointments for perms, coloring, and special occasion groups. Include all that information so people know what to expect
A sample hair stylist Bio might look something like this:
Hi, my name is _____________ and welcome to my shop/salon ______________. Ever since I gave my first Barbie a buzz cut (don't worry, I've improved since then!), I've loved to cut hair. In ___________ I graduated from the ________________ School of Beauty and Hairstyling.
In addition to passing all of my final tests with high scores, I also received certification in coloring, facials, and waxing. I specialize in working with long hair, creating updos and styles that can be worn every day.
I'm aware of and sensitive to the challenges of __________and __________ and can provide professional solutions to make you look fabulous! In addition, I want to make your  time with me a pleasant and relaxing break in your day
I am available for haircuts and shampoo/styles during regular shop hours, ______________ Monday thorough ___________. In addition, perms and hair coloring appointments are usually available a minimum of 48 hours in advance, and with 72 hours' notice, my assistants and I can handle bridal and special events groups of up to eight individuals.
Our salon proudly uses _________products, which are eco-friendly, not tested on animals, and hypoallergenic. Our fine lines of shampoos, conditioners, mousses, and de-tanglers are also available for purchase__________ . Nail Boutique is located at the rear of our salon, and our customers get a 10 percent discount on all manicures.
Just as every stylist and salon are different, so will every stylist's bio. The important points to remember are using this information to establish trust, confidence, and desire in potential customers. Once they've read your bio and seen your work, you want them to come to you instead of clicking on the next site. Creating a lively, informational, and friendly bio is a great way to get them in your door.
Need more help? If you don't feel confident about your writing, or you're simply in a hurry… go to How to Write a Bio to get detailed fill-in-the-blank Hair Stylist bio template.