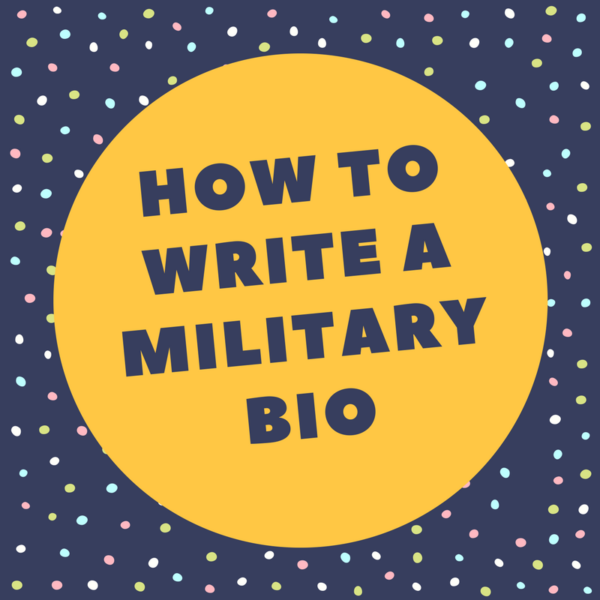 The military bio format is much like the bio format used in civilian life, although there are a few key differences that you should be aware of.
Regardless of whether your military service is in the army, navy, airforce or coast guard, your military bio is designed to do one thing: provide a brief but impressive narrative summary of the highlights of your armed forces career.
You'll be asked for a military biography if you're applying to get a promotion or move into a different branch of the armed forces. You might also need a military biography to introduce you as a speaker or to credit you as the author of an article or book.
If you're not sure how to write a military biography, here are some guidelines that will help:
1) Be brief. The standard military bio format is roughly 200 – 300 words when written and no longer than 60 seconds when read aloud.
2) Write in third person but use first person when reading it aloud. Third person would be like this: "Jane Smith trained with", while first person would be like this: "I trained with".
3) Start with personal information such as your name, rank, branch, and place of birth. For example:
___________ (your rank and name) is a/an/the ___________ (Duty Title or designation) based at/in _____________ (location).
4) Summarize your military and deployment history in chronological order from basic training to the present. For example:
His/Her assignments include duty as ________ (summarize your tours of duty, including Duty Title or designation, section/unit and mission) in _______ (month/year); ________ (the next assignment) in ________ (month/year); ________ (the next assignment) in ________ (month/year); and most recently, ________ (your most recent  assignment) in ________ (month/year); 
5) Summarize the education and training you have completed. Don't forget to include civilian experience. It can be a major selling point because it sets you apart from someone who has only military experience. Here's sample wording:
________ (your name) received a ________ (type of degree) from the University of ________, in __________ (city and state) where he/she graduated __________ (graduation status, if applicable. For example, "summa cum laude" or "with first-class honours). From there, he/she undertook studies in __________, and successfully passed the ________ (name of examinations) in _______ (year) after which he/she earned the rank/position of ________.
6) Include additional information such as awards and accomplishments, as well as any interesting or impressive details of how you rose in the ranks.
7) Conclude by briefly stating your goals for the future. For example:
_________ (your name) is currently working towards achieving ________ , with a view to _______ (what you hope to be doing) within the next ______ (timeframe, e.g. few months; year; 18 months). 
***
A bio template makes writing a military biography quick and easy!
Does writing a military bio seem like just one more task on your long to-do list? Are you unsure about your ability to present yourself in the best possible light? If so, get a fill-in-the-blanks military bio template written specifically for military service. You'll have it all done and complete within the next 20 minutes.